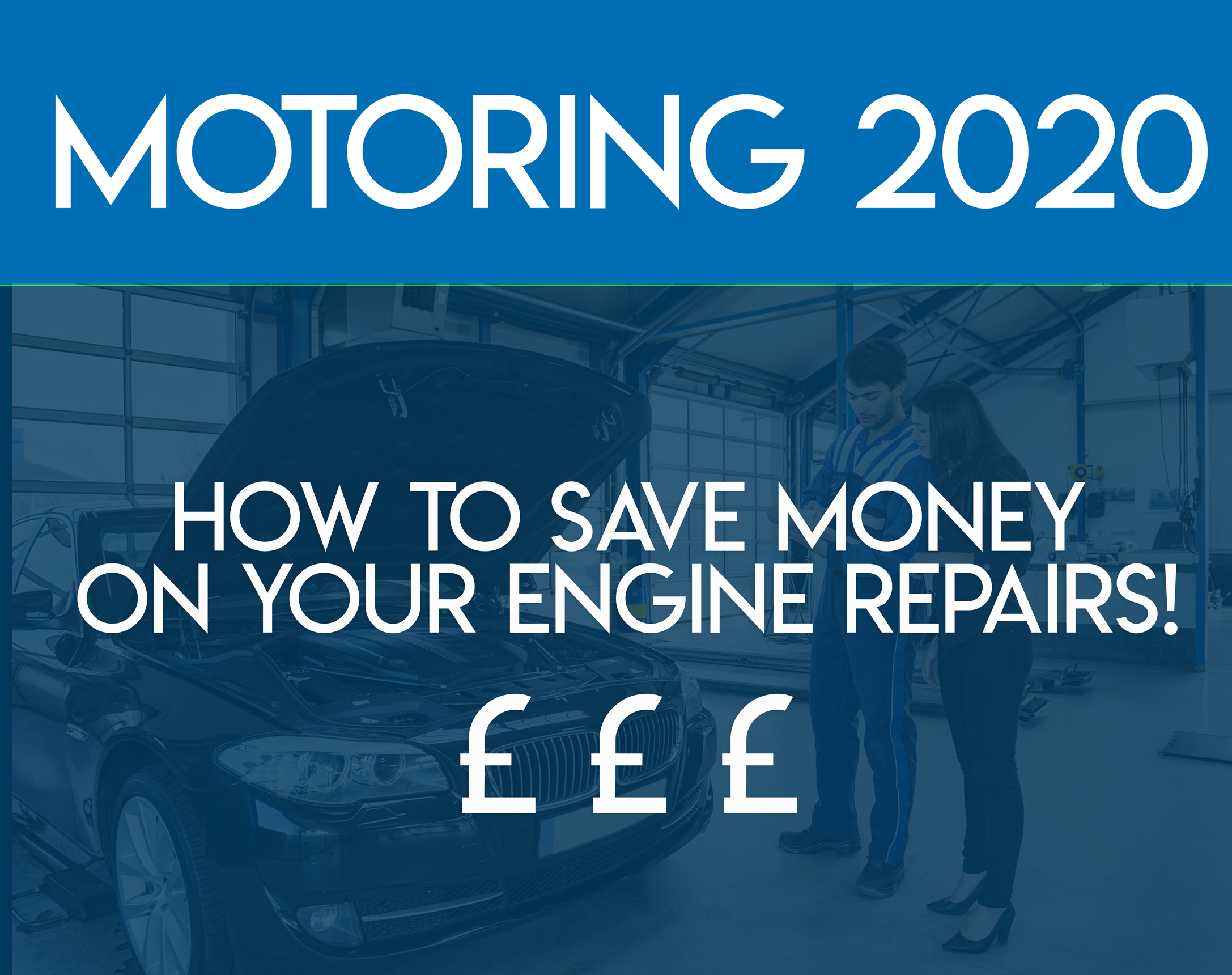 How to Save Money On Engine Repairs
| Jas Johal
As a society, we rely on our motor vehicles more than ever but as people are moving more towards other methods of transport, the used car market is suffering. More people are turning towards lease cars, in warranty with short term commitments. But what happens to the rest of us who have vehicles use daily that we own? 
The RAC Foundation reports that, At the end of March 2020, there were 38.3 million licensed vehicles in Great Britain, a decrease of 0.2 per cent compared to the end of March 2019. That has only ever happened once in our lifetimes, during the 1991 recession.
As the number of vehicles on the road may start to decrease, car owners may find the following problems.
Scarcity of qualified mechanics – More career choices out there to meet future demands and less investment in the used car repair services. Mechanics will work towards other avenues of approved warranty work on newer cars on behalf of main dealers as a new business avenue.
Less availability for new parts – Longer lead times on parts from the manufacturers for older vehicles as their focus shifts to the lease market and newer vehicles.
OEM part manufacturers and Aftermarket Options decrease as a result
Pricing for Motor Repairs goes one way – UP….
So should we all move to lease and benefit from the warranty?
Leasing can be a very good option for people if they have a regular income, want to drive a brand-new car, and save on company car taxes (Electric & Hybrids). However, leasing does not suit a vast amount of people. At the end of the day, you still have a vehicle which you love and if you get any issues, its repairable. Leasing is not for everyone it can be expensive with regular monthly outgoings, a commitment and if you are self-employed or do not have a regular income, it can be an expensive route and also has mileage and servicing constraints. For most people, especially new drivers, buying a good used car is a viable option.
What about repairs? I've heard it can be a fortune to repair an engine failure on a used vehicle out of warranty?

The benefit of buying a used car is a one-off payment and you own the vehicle. You don't need to worry about hitting specific mileage amounts or wear and tear fines that you can get with a lease car. Also, if you buy a solid reliable vehicle, the likelihood of a serious repair decreases. However, you are responsible solely for the repair costs. So in the unfortunate event your car is at the mechanics for major works, you have to be ready to spend. However, the cost of the repair may still outweigh the costs of going on lease. There are two main aspects to a quote, Parts and Labour.
I've got a major problem with my car engine and the repair quote I've received is a fortune. I can't really afford it. What can I do to make it more affordable?
Well very often, a mechanic will quote you using brand new manufacturer/main dealer parts, in addition to their labour costs. A viable alternative is asking your mechanic to find used parts. Certain parts can only be purchased new, such as gaskets and bearings (Wearing parts). However, your core engine parts can be sourced at a fraction of the cost used.
That's music to my ears… so how much could I save?
Lets run a scenario
Lisa has a 2011 BMW 320i 2.0Ltr Petrol – a car which is generally very reliable. However, she does quite a lot of mileage commuting to work and one day she discovered a problem with loss of power from the engine. She continues to use the vehicle but after a week, the engine management lights are now showing on her dashboard. Lisa takes the vehicle to her local mechanic and explains the problem. The mechanic inspects the engine and it turns out she has an issue with the crankshaft, and it needs replacing.
The mechanic quotes on stripping the engine, replacing with a new crankshaft and new shell bearings and rebuilding with genuine BMW parts.
New Parts & Labour
BMW 2.0i Crankshaft New - £650.00 + VAT
BMW Genuine Wearing Parts - £175.00 + VAT
Labour (1-2 Days) - £650.00 + VAT
Total Cost Of Repair: £1475.00 + VAT
Total cost to Lisa £1,770.00 (inc VAT)
Lisa decides this is expensive but moving away from this mechanic and getting an additional quote can be expensive, because the mechanic wants £200 for diagnosing the issue as he had to spend significant time identifying the problem and quoting.
Lisa's mechanic then suggests buying a used checked and tested crankshaft, from a recycled green parts source and genuine OEM wearing parts which can significantly bring the price down. He also gives Lisa the engine type and asks her to search herself.
Lisa searches "BMW N43B20 Crankshaft" into Google and many options come up! She manages to find one from www.directengineparts.com for £195 Inc VAT! That's a staggering saving of nearly £600.00 immediately.  Lisa then sends an email to sales@directengineparts.com and requests the cost of a set of shell bearings to suit. Lisa receives a quote for the crankshaft, including shell bearings for £260.00 Inc VAT with a guarantee of the part being in perfect useable condition.  
Overall… buying used, Lisa will save £730! This is a serious saving which Lisa is very happy with and she continues with the purchase, parts delivered directly to her mechanic and the job is complete within a few days and Lisa's BMW is back on the road.
Do you need to save money on your car repair? Contact Direct Engine Parts today and Save a further 10% Using Code DEP1020 and still receive Free UK Delivery on all order Over £30.